Find relief from chronic pain safely, naturally and effectively.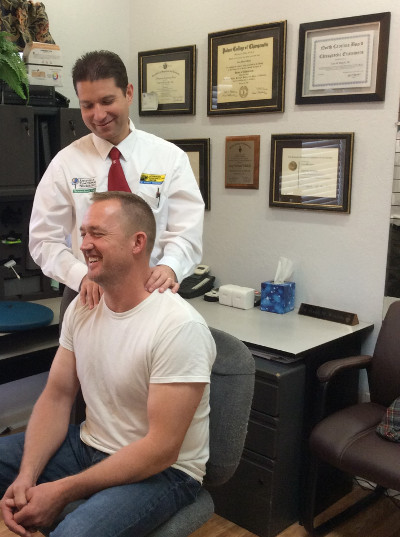 Safe, natural, and effective, chiropractic care can help if you struggle with generalized chronic pain or more specific pain, such as ongoing pain in your back or neck. At Advanced Chiropractic Center, we stick with a "whole person" approach, and our chiropractor – Dr. Walicki – goes beyond adjustments and spinal manipulations to help his patients find relief. We aim to get to the part that matters most: getting you out of pain!
During your initial evaluation, Dr. Walicki will start by assessing the entire area of pain and educating you about exercises, proper posture, relaxation methods, and even options for stress management. Dr. Walicki also specializes in functional exercise, functional neurology, and functional medicine, and these elements, along with the latest in chiropractic care, can result in faster results and more effective treatments for chronic pain.
Dr. Walicki has taken advanced training that includes hands-on evidence-based, clinically proven treatments for treating chronic pain. He has learned powerful, practical tools that pair the latest discoveries in combined clinical experience in neurology, biomechanics and rehabilitation into an effective approach to treating patients with pain. So what makes our approach different from other treatments is the application of clinical neuroscience/functional neurology to any technique that we may utilize in order to help reduce or eliminate chronic pain. This allows Dr. Walicki to truly create customized treatment plans based on a person's unique biomechanics and neurology. At Advanced Chiropractic Center, we consider how the brain and biomechanics involved in promoting pain influence a person's condition and how to fix them.
While our approach to chiropractic care regularly improves chronic pain systems for our patients in the Asheville, North Carolina area, we may also implement other modalities into your treatment plan. For example, massage therapy can add another layer to the healing process and help you feel better even faster.
Dr. Walicki and the rest of our team will work on improving the pain you are dealing with, as well as your overall wellbeing and health. The idea behind this approach is that when you properly care for your body on all levels, it will naturally begin to heal itself.
Stop living in a state of chronic pain! Find out how we can help you overcome your ongoing discomfort without medication or intensive interventions by giving us a call at Advanced Chiropractic today.
Break The Pain Cycle – How Chiropractic Care Can Help
Pain – Chiropractic
Chronic Pain / Understanding Pain – Chiropractic
Pain is our Alarm System – Chiropractic
Neck Pain – Conditions Treated
Stress, Pain and the Immune System – Conditions Treated
The Opioid Epidemic
---
At Advanced Chiropractic Center, we treat chronic pain for those from Asheville and Hendersonville and throughout Buncombe County and Henderson County, North Carolina.
Similar Services We Offer: